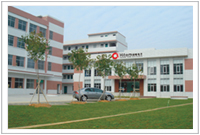 Chuang Feng Electronics Co., Ltd., Dongguan City, was founded in 1995, is a professional production of a computer mouse manufacturer, after several years of hard work, has become a research and development, production, sales as one of the high-tech enterprises. Since its establishment, has been uphold the "quality-oriented" business philosophy, focusing on the strengthening of R & D has now been successfully launched at home and abroad with a full range of brand HITOM computer mouse, keyboard and other computer input products. The company has more than 500 employees, technicians, managers, R & D and sales staff of nearly 80 people, plant area of 8,000 square meters, has 6 fully automatic production line cycle, the mouse can be 600,000 or more per month.
The company has passed ISO9001 international quality certification system, strict management, improving quality, while all products have passed FCC, CE and other international certification.
At present, the highest peak with numerous electronic channels, HITOM own brand products are sold to cities and towns of China, and well-known brands and domestic IT companies to establish long-term partnership, while a subsidiary of Hong Kong as a window a sea of electronic products are exported to Korea, Japan, Britain, Germany, the United States and other overseas markets.
The next record peak, will be looking for a better development, production technology and methods to adapt to change and development of the future of innovation. Will be a more positive mental outlook, excellent team spirit, to meet old and new friends from five continents.